25th November 2022: Base metal prices have rallied in recent weeks with PMI survey data for November suggesting some improvement in Europe and the USD has fallen back, helping to lift commodity prices. However, high frequency data from China shows a sharp slowdown in activity in recent weeks and a severe lockdown is evident in the megacity of Chongqing. Given these headwinds, we look for base metal prices to trend lower in the weeks ahead, as China is likely to dominate sentiment.
Base metals prices rally on OECD macro story. The past month has seen a significant rally in the base metals complex, with flash PMI data for November suggesting that the Eurozone may have turned a corner, while a slowdown in the US PMI helped to take the USD lower. The Eurozone composite PMI rose to 47.8 in November, from 47.3 in October. Meanwhile, the US services PMI fell to 46.1 in November from 47.8 in October. Both these factors suggest a brighter future for base metals. Double digits gains were seen across lead, nickel and tin. Meanwhile, aluminium and copper both rose by 7% m/m (25 November), with zinc up 1% m/m. However, we feel that this bullishness is misplaced.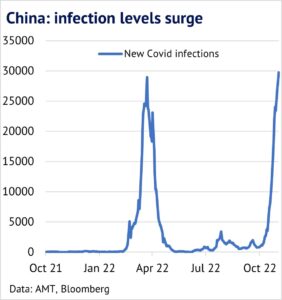 High frequency data for China flashes red. While OECD countries may be seeing some small green shoots, China is currently heading into very choppy waters and high frequency indicators show that activity slowed sharpy in mid-November in response to rising Covid cases. While the central government is trying to accelerate economic growth through a mass of monetary and fiscal stimulus measures, local government are pressing on the brakes as they try to control the spread of the virus. With senior health care official stating publicly that they will not be able to cope with a surge in infections, there is a clear and seemingly unresolvable conflict between local and central government objectives.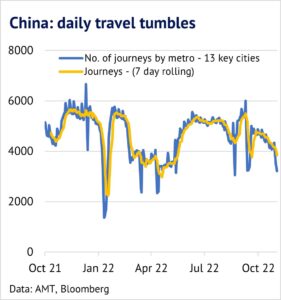 Passenger movement by metro has slowed sharply. For now, it is clear that lockdowns are becoming more widespread, rather than less, curtailing economic activity and reducing metals demand. Looking at passenger movements by metro across 13 key cities we can see that travel has tumbled. Using a 7-day rolling average, travel was down by 19% m/m (23 November). Rising cases have clearly taken their toll in Beijing (down 35% m/m), but Chongqing – a mega city with 30 million people – has seen a 99% drop in travel. It might be tempting to think that perhaps more people are moving by car (to avoid infection), but weekly traffic congestion data confirms that the slowdown is real, as it implies a drop in car journeys into mid-November, with congestion levels falling.
Property market is also looking fragile. Confirmation of weakness in the Chinese economy comes from weekly data on property sales (gross floor area). Across 19 key cities sales were down by 29% m/m in the period ending 16 November. Admittedly construction activity often slows heading into the winter, but the m/m fall this year is twice as large as the seasonal fall that took place in the same period of 2021 and three times as large as the drop that took place in 2020. Once again Chongqing is at the heart of the recent slowdown and property sales in this megacity are down 93% m/m in the period ending 16 November 2022.
Recent months have seen the central government introducing a glut of new measures to underpin the housing market, in an attempt to turnaround property giants such as Evergrande, but so far these are not feeding through into real activity. For example, in mid-November the government introduced an aggressive 16-point plan to underpin confidence, including extending deadlines for lenders to meet loan requirements and relaxing other rules to improve liquidity. Next year may well look brighter, but for now weak activity is widespread and shows that the economy is struggling to cope with Covid19 and the overhang of unsold property which has built up in the system. The construction/property market in China is estimated to account for around 25% of the economy.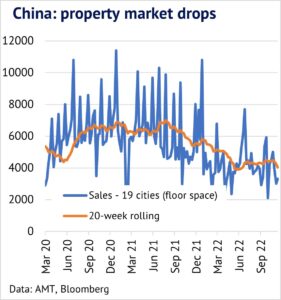 Base metals likely to fall back. The weeks ahead are likely to see base metal prices remaining very volatile, but we expect prices to trend lower heading into year-end. China is struggling to emerge from its Covid crisis and while the government is talking up the economic outlook, the reality on the ground is very different. Activity is slowing across sectors such as construction and travel, suggesting a weak end to the year for the economy and base metals demand. There are some more bullish factors emerging in the OECD countries, but for now China is likely to dominate price action.