What do these magnesium shortages mean?
China produces the majority of the world's magnesium but domestic power curbs have significantly disrupted output, triggering fears of a major global shortage. The metal is essential for producing aluminium alloys for the auto industry, among other applications. This threatens fresh automotive sector shutdowns and associated base metals demand. Some China magnesium producer operating rates have partially recovered throughout October; this may alleviate but not fully resolve the issue.
What is Driving the Magnesium Shortage?
Beijing's campaign to curb domestic electricity and coal use in response to growing shortages has significantly disrupted magnesium output.
China produces ~85% of the world's magnesium, but the process is highly energy and coal intensive, so producers have been natural targets for cuts since the summer.
The Financial Times reported that local governments in Shaanxi and Shanxi provinces ordered 35 of 50 magnesium smelters to halt production from late September, with the rest ordered to halve output until end-2021.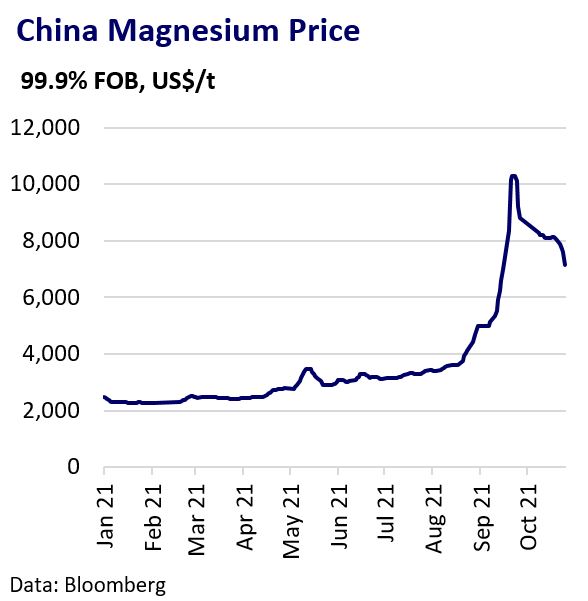 The price of magnesium from China consequently soared almost five-fold to beyond $10,000/t in September amid fears of severe shortages.
What is the Threat to Metals Demand?
Magnesium is an essential alloying element for aluminium billet and slab production and is widely used in die-casting alloys. Substitution is difficult so the threat of shortages presents challenges for key consumption sectors, notably automotive production.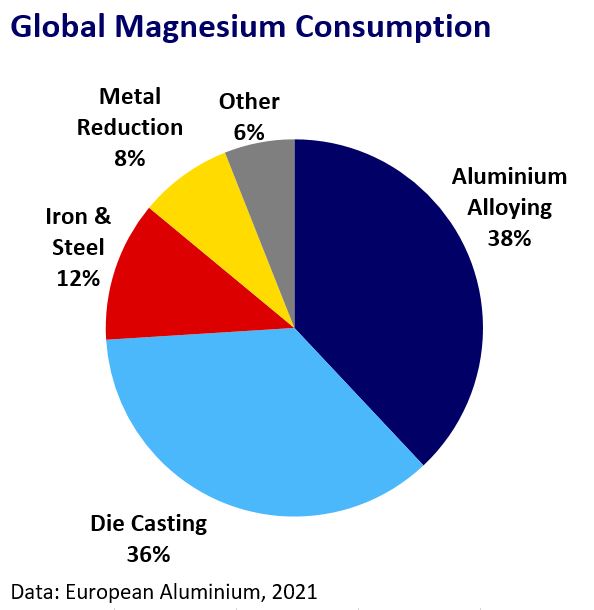 The metal starts to corrode after a few months making storage difficult, meaning a very limited inventory buffer against supply disruption.
Industry groups have raised concerns about a struggle to secure supplies for 2022. European industrial consumers are notably exposed, relying primarily on imports from China. Metalco announced that continued scarcity would hit 2022 aluminium billet output.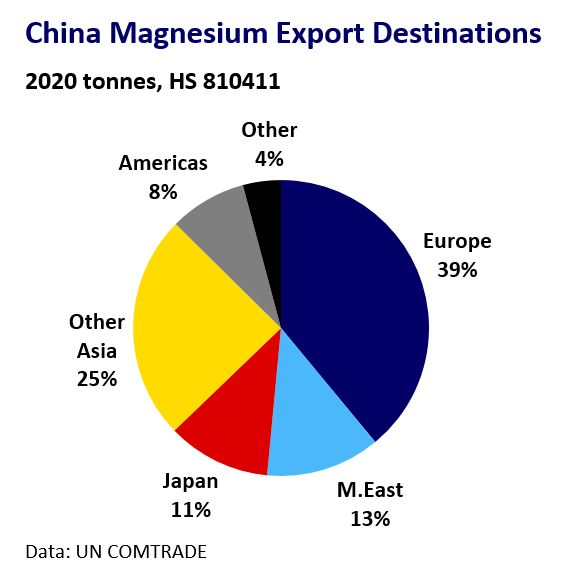 The European Aluminium Association has warned of Europe-wide production shutdowns and Germany's non-ferrous metal trade association said European magnesium reserves may be depleted by end-November.
Carmakers are particularly vulnerable to a shortage of auto-grade aluminium, which would compound disruptions from persisting semiconductor shortages. Volvo warned this poses a significant risk to its production and profitability.
Dependence on China has fuelled concerns that the country will prioritise meeting domestic magnesium needs over exports. Last Sunday, Chinese media warned magnesium exports would drop by 10% in 2021.
Recovering Output Could Calm Fears
Beijing has undoubtedly faced pressure from politicians and industry groups to help resolve the issue. Some smelters resumed output at 40% capacity from early October. SMM reported on Tuesday that key magnesium producers in Shaanxi Province, which account for 60% of domestic output, are now operating at 70-80% of capacity.
The price has eased to below $8,000/t on optimism that this recent increase in output will alleviate projected shortages. It seems likely that continued political pressure may persuade China to shield magnesium producers from the worst of electricity curbs going forwards.
However, China's electricity shortages and need to ration use may intensify over the winter months. The risk of severe magnesium shortages is therefore unlikely to dissipate fully until after China's power crisis eases, which may not be until Q2 2022.
Implications
Demand for aluminium, and zinc to a lesser extent, appears most exposed to shortages due to the direct dependence on magnesium for use in downstream applications. However, further disruption to the automotive sector would likely weigh on base metals demand more broadly.
A shortage of magnesium could prompt aluminium producers to switch to LME-deliverable ingot production from billet and slab.
The magnesium story highlights the indirect and perhaps delayed risks to metals demand from the developing energy crisis and resultant disruption to global supply-chains and materials availability.